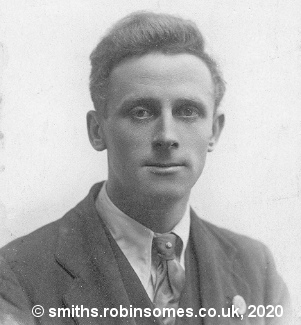 Stan Smith senior, known as "Old Stan", was born in Oxford in 1888, and learned many of his boatbuilding skills from his father. He worked before the Great War at Portsmouth dockyard, and during the war, at the Royal Navy dockyard in Invergordon. There, he met and married Jean Ross. Their first child, Stanley Theo Smith, was born in October 1918. The family returned to Yarmouth after the war, where daughter Jeanette was born in 1919, and Colin Ross Smith in 1921.
Old Stan worked in his father's boatbuilding business, Theo Smith and Son, and took it over after Theo's death, continuing to run it until his own retirement. As well as boatbuilding and repairs, he also ran boat hire and sailing tuition, and was a keen competitive sailor. He was well-known in the town as a member of the Yarmouth lifeboat crew, serving as Second Coxswain from 1933, then Coxswain from 1944 until his retirement in 1952.
After his wife Jean died in 1928, he married again, to Ena Green, and 2 further children were born, Gerald (1931 – 1983) and Avril (1932 – 2017).
Gerald joined the family business in the 1950s, and together they built the renowned Sandpiper, Phoenix, Delight and Siani class yachts, among many others.
Old Stan died in May 1971, aged 82.
All content © Robin Somes unless otherwise indicated.
---